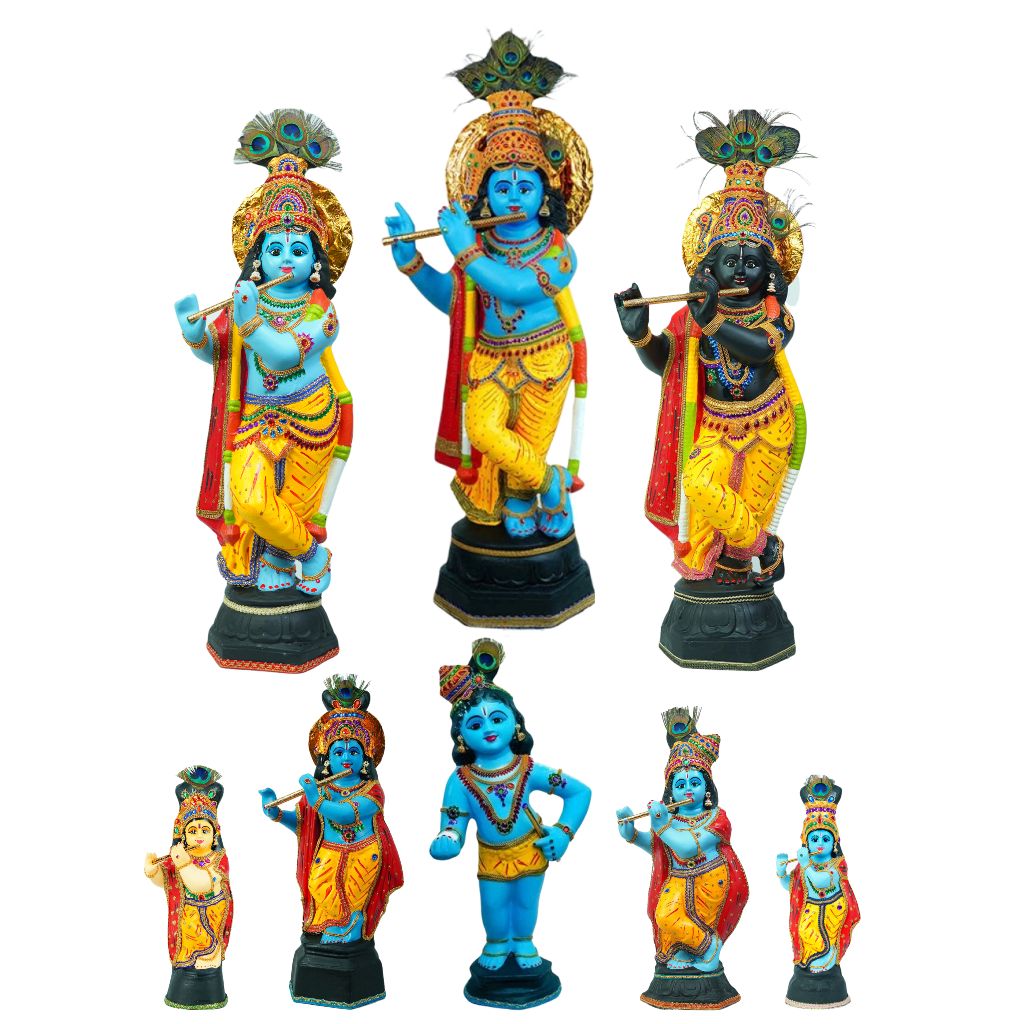 A devotee of Lord Krishna? Want to bring the Hindu god idols online to your home? While you are one of those having a huge following of Lord Krishna, but to get a full blessing from the God of wealth, love, and prosperity you need to know the right placement and direction of keeping the idol(Hindu god idols online).
Lord Krishna Idol – Placement and Keeping the Right Elements Around it
Whether you are buying small or big Krishna idols online (Hindu god idols online), or have been gifted one, you should keep the following rules in mind about placing it:
Height
The height of the place where you intend to keep the idol is an important consideration. The point is that the idol is at an ideal height where you are able to look into the eye of the statue, and not up or down.
Direction
Similar to height, the direction of the statue is also important to note. The idol should be facing east to west, or west to east as well, and the most ideal position for keeping the statue is the northeast corner of your home. The idol should not be facing north to south.
Light Direction
How much positive energy you gain from the idol also depends on how the light is being directed onto the statue, and the ideal place is from the southeast side. Proper light is an important consideration for you to gain happiness and prosperity.
Place to Avoid for Keeping the Idol
As we have mentioned above, the most effective position in the northeast corner and the statue should be facing east to west, or west to east. This factor has to be considered when choosing the room for keeping the idol. Your bedroom and bathroom are those rooms where Lord Krishna's statue shouldn't be placed.
Elements to Supplement Lord Krishna Statue
Flute – This is a must have as it is the symbol of Krishna, bringing harmony and unity.
Cow and Calf – These statues alongside Krishna are ideal as per Hindu mythology.
Peacock Feather – This one is used to bring happiness and the charm of beauty.
Lotus – Placing this flower with statue is a sacred aspect as it is believed to bring stability, and must be replaced every day.
Makhan and Misri – A prasad made with makhan (white butter) and misri is a must-do to be offered to Lord Krishna.
Lord Krishna idols come in many varieties, and what you should buy depends on the purpose. If you are welcoming a new child in your home, or want to gift such to new parents then Krishna idols for gifts in the child version of Lord
When you are searching for, then ensure that you researched all the aspects related to their elements, placement in your home. Feel free to gift it to your relatives too. View and share https://idolmaker.in/product-category/krishna-idols/ to your friends and relatives.
In addition we provide three months guarantee for this idol for colour. Please visit
Firstly, facebook page : https://www.facebook.com/wwwidolmakerin/
Secondly, Instagram : https://www.instagram.com/idolmakerin/
Thirdly , twitter : https://twitter.com/wwwidolmakerin
Finally , Linkedin : https://www.linkedin.com/in/idolmaker-in-314929212/